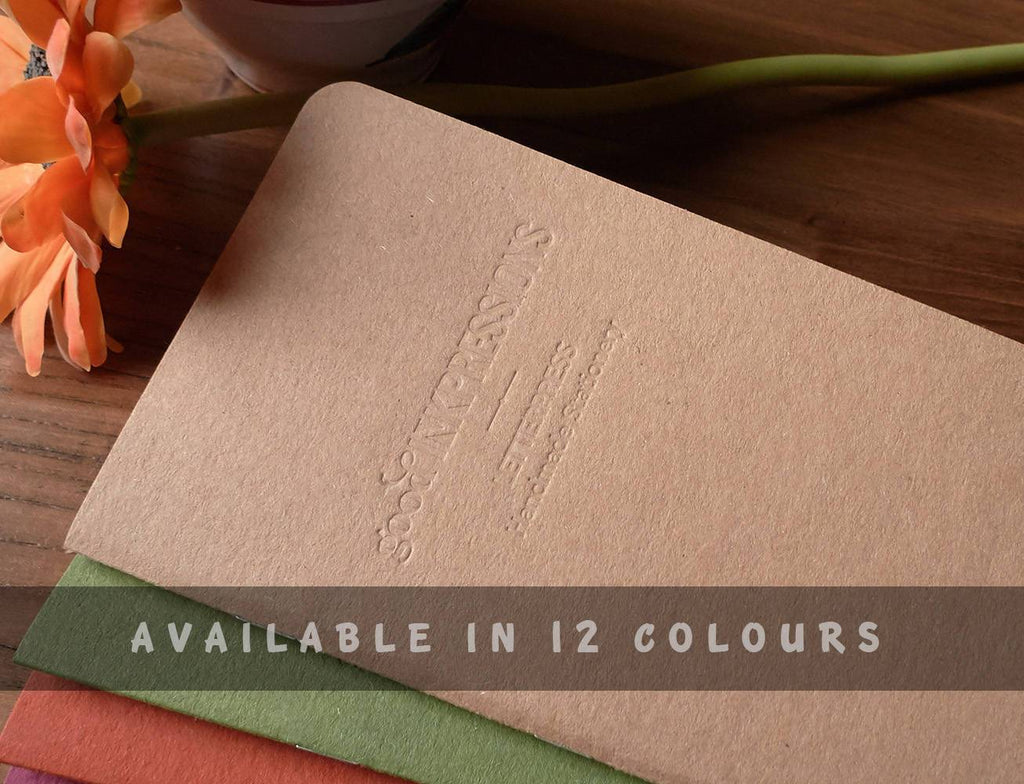 Personal 60 page - SPLENDORGEL paper - TN Inserts - 013
Personal 60 page - SPLENDORGEL paper - TN Inserts - 013
Made to order Traveler's Notebooks Inserts.
Premium quality at affordable prices.
These are made from scratch in my workshop, I only use high quality materials and I pay meticulous attention to detail on each product. The cover is embossed on our vintage 1950s letterpress, for a greater premium finish.
This listing is for 60 pages SPLENDORGEL CREAM 85gsm paper.
UNIQUE FEATURES:
- KRAFT COVER:
Available in 12 vibrant COLOURS.
We use the finest 300GSM Kraft paper source from a traditional, family run, mill.
This paper, 100% made from recyclable sources has a great natural feel and superior durability.
- INSIDE PAGES:
85 GSM Premium Fedrigoni SPLENDORGEL AVORIO paper. Ultra smooth, natural cream coloured paper.
The paper is bleed-resistant, feather-resistant and has low show-through, all contributing to the most pleasant writing experience. Ideal for fountain pen users.
- STYLES:
Plain
Dots - 5mm standard or 4.2mm under request
Ruled - 6mm standard or 7mm under request
Graph - 5x5mm
60 pages
************* SIZES *************
Regular : 110 x 210 mm -- (8.30 x 4.30 inches)
A5: 148 x 210 mm -- (8.30 x 5.80 inches)
Cashier
: 130 x 210 mm -- (8.30 x 5.00 inches)
B6: 125 x 176 mm -- (6.90 x 4.90 inches)
B6 Slim 110 x 176 mm -- (7.00 x 4.25 inches)
Personal Size: 95 x 171 mm -- (6.75 x 3.75 inches)
A6: 105 x 148 mm -- (5.80 x 4.10 inches)
Field Notes: 90 x 140 mm-- (5.50 x 3.50 inches)
Passport : 90 x 124 mm-- (4.90 x 3.50 inches)
SHIPPING:
Fast and affordable worldwide shipping
Quick links
Contact info
Castilla 70
Lardero, 26140
Spain
info@goodinkpressions.com
Sign up to our mailing list